Product's Characteristics and Strength
100 Mpa High strength concrete
Joint research institute and participating researchers
6 researchers and Lee Kyo-il, the head of Seoul National University engineering research institute
- Published thesis on October 1995
Development and commercialization research of
high durability for high quality construction
Research Details
Identify the decreasing function of the concrete structure and its reason


- Concept of decreasing function of the structure and its function decreasing process

Plan to improve the durability of the concrete structure


- Design standard regulation, analyze each country's durability cases, analyze factors that affect civil structure's durability formation, analyze durability improvement mechanisms

Test to find out the adequate mixing proportion of high durable concrete


- Flexibility and durability characteristics, strength characteristic test, water resistance test, corrosion resistance test, sulfate resistance test, freeze and thaw resistance test

Test result and analysis for finding the adequate mixing proportion of high durability concrete


- Distributable, strength characteristics, water-resistance, corrosion resistance, freeze resistance, sulfate resistance

Find the adequate mixing proportion
On site test
Result
80 Mpa high strength, non-compaction concrete
Joint research institute and participating researchers
7 participants and Dankook University construction material research laboratory
- Published thesis in April 2004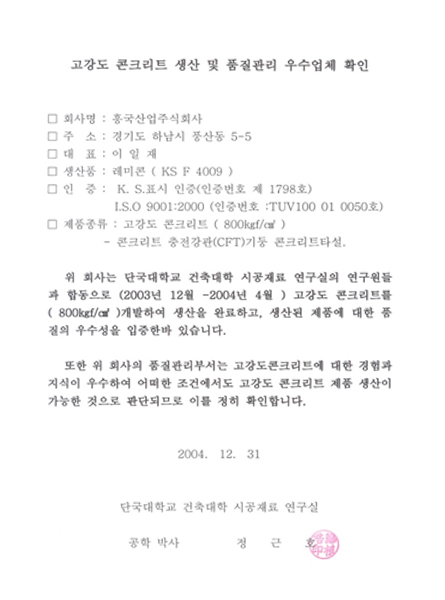 Poured in the high floor of skyscraper Lotte World (Highest in nation)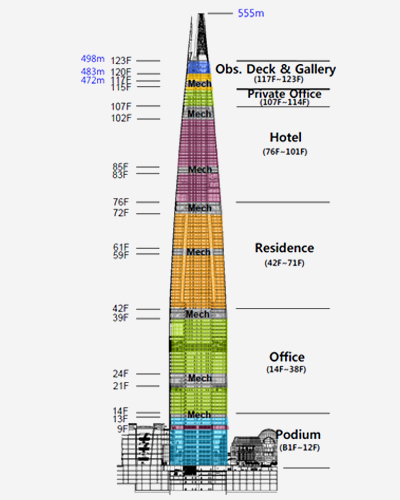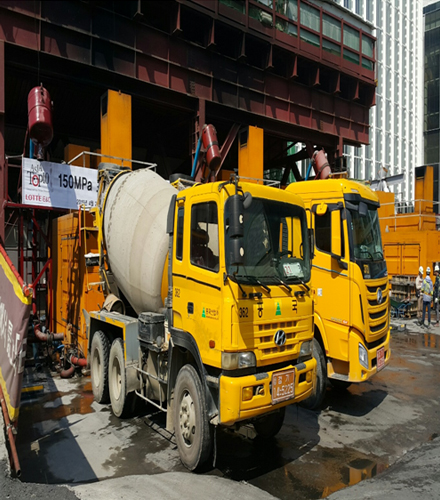 Product management

Material stocked and material crushing

It imported crusher plant from overseas and now has better aggregate manufacturing facility than the competitor. It self-produces and manages the 25mm gravel and crushed sand.
Aggregate cleaning

It contributes to the quality improvement by using the system that removes impurities and reduces fine powder and soil.
It stores the carefully selected aggregate in the indoor shed on rooftop of the 18,515㎡ factory area before use
Crasher Plant that produces the best quality concrete